Serving Rockwall TX And All Surrounding Areas
Privacy Fence Installation
Privacy Fencing Installation in Rockwall, TX
There are two basic methods of
fence construction
: (1) prefabrication and (2) onsite building/stick building. There are similarities and differences between both methods. Both methods require that a post be installed every eight feet. However, each method will vary depending on the fence company, but the basics will hold true. We have added our method of construction to provide a contrast and to explain why we build to such a strict standard. Below are the basic definitions of each building methods, the availability, aesthetics, and anticipated longevity.
PREFABRICATED FENCING: As Low as $15.00 a foot installed
This building method consists of prefabricated eight foot sections of fence. They are pre-built using 2" x 3" x 8' rough cut runners, 1/4" x 4" x 6' rough cut dog-eared pickets.. At the point of installation, metal or 4" x 4" x 8' rough cut line post is installed every eight feet. The section of fence is placed on the post, and the runners .
OUR METHOD OF ONSITE/STICK BUILDING:
It all starts with the framework. Our method requires the fence is assemble piece by piece using 4" x 4" number or metal post 2 primed line posts, 2" x 4" x 16' number 1 2"x 6 x 16 bottom primed horizontal runner, and 1" x 6" x 6' rough cut pickets. To ensure all lumber remain secure, we use a series of special treated tipped, ACQ rated, ring-shank nails. A ring-shank nail has 50 reversed ovular rings which acts like threads on a screw when it punctures the wood.
The Runners: Unlike the standard method of onsite building, we use 2" x 4" x 16' number 2 primed lumber. We still install a post every eight feet, but we stagger them. Our method of staggering longer runners, coupled with the posts, creates a long lasting framework. In addition, due to the length of runners, the lumber is milled from the heart of large and mature trees. The pores are tight or small or often closed. As a result, warping and cupping are minimized and crown direction does not matter.
At the point of installation, 4" x 4" x 10' number 2 primed or metal line posts are installed every eight feet. Then the (3) 16' horizontal runners are staggered and secured to the post using (2) 3" ring-shank nails per runner. Each picket is then individually secured with (6) 2" -ring shank nails.
Only a small percent of companies build to our standard. WHY? The answer is simple: The material requirements cost more, the skills needed for installation are greater, and the profit margin is low. It is just a fair exchange between homeowners and companies which promotes long term growth.
Our method of building can last approximately 15+ years in both splendor and longevity. It just depends on how well the individual homeowner takes care of the fence.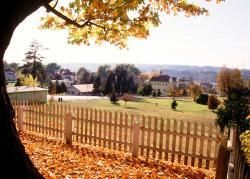 Rockwall Fence and Outdoor Living
Josh and his crew were AMAZING to work with! They just finished a beautiful fence behind my business and I could not be happier with the results! Josh and his crew were friendly, professional, on time and were very easy to work with! I enjoyed my experience with Rockwall Fence, and I would highly recommend them to anyone who is looking for a great quality fence!

- Amy Connolly. 10/20/2019

Josh and his crew just finished our backyard fence and we could not be happier. The communication was great as well as the attention to detail. The crew was dependable and precise. We even made a few changes along the way and they adjusted perfectly. We highly recommend Rockwall Fence!

Josh and his team at Rockwall fence took the time to do a quality job replacing my existing fence with board over board 8 foot and installing a section on the opposite side of the drive way / house, designing it to place a sliding gate in the future with minimal rework. Josh thoroughly explained the entire process and supplied options as needed on my project. Just finished staining a few days back the fence looks great! I would highly recommend the team at Rockwall Fence for any of your fencing needs.

- Richard Marley. 4/26/2018

We moved into a house in Nevada,Tx. in January. The fence was in bad shape, so I knew it needed to be replaced. I wanted to extend it further back also.I wanted a stained cedar fence.I contacted Josh for an estimate. He replied quickly and gave me a good estimate. Josh, Nathan, and the rest of the crew did an outstanding job taking down the old fence and hauling it off. They then built the best fence I have owned in my almost 40 years of home ownership. In addition to building the fence and then staining it perfectly They also built wide gates in the fence for ease of transitioning in and out of the back yard with my truck and garden tractor. Due to the excellent job with the fence, I also hired them to build a 30' X 36' steel building that I ordered from Mueller Steel Buildings. Once again they did an outstanding job. I would recommend Josh and his guys to anyone needing fencing done. I wouldn't hesitate to call them for any kind of work I need done.

- Leon Carroll. 4/11/2018

Does excellent fence work at very reasonable prices. I had Josh do a wood on wood 8 foot cedar fence and it is solid, sturdy, beautiful, well built and priced right! I've gotten a lot of compliments about his work. He is very dependable and shows up on time every day.

Josh Copple at Rockwall Quality Fences and Decks did a great job assuring me of this company's honest, dependable reputation. He provided references who were able to answer my questions about quality and trustworthiness. My fence installation went smoothly and was completed on time. Josh even created a custom dog window in the fence in an area where the ground sloped sharply. He measured my dog's height and head/muzzle width to make sure his design would be absolutely safe and secure while being functional and aesthetically pleasing. It is the nicest dog window I've ever seen! I highly recommend Josh and Rockwall Quality Fences and Decks.

- Becky Hartless. 7/19/2014

Very professional staff who worked quickly and diligently. Work site was clean and they made sure I was fully satisfied before they left. I love my brand new fence!!