Serving Rockwall TX And All Surrounding Areas
Wood Fence Installation in Rockwall, TX
Whether you're looking for more privacy or want to make your property safer, Rockwall Fence is here to help. As an established fencing contractor in Rockwall, TX, we have the tools and experience to construct a fence that meets your functional and aesthetic needs, all the while adhering to area zoning laws and requirements
If you're looking for a sturdy, classic fence to add privacy and value to your home or business, you've come to the right place. Rockwall Fence is a fencing contractor in Rockwall, TX, and we're pleased to offer our valued customers a variety of wood fencing options.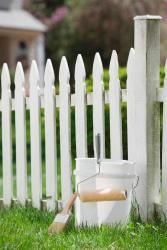 A Look That Won't Go Out of Style
The great thing about wood fences is that they offer a timeless look that blends well with almost any property you'll find in Rockwall, TX. And when you hire Rockwall Fence to install your new
wood fence
, you'll benefit from our impressive work ethic and attention to detail. We want you to come away completely satisfied with your new wood fence, and we'll stop at nothing to make sure your experience with us is a positive one from start to finish.
Gain privacy and protection with a wood fence from Rockwall Fence. To learn more about our services or to schedule an estimate, call us today.
Rockwall Fence and Outdoor Living
Josh and his crew were AMAZING to work with! They just finished a beautiful fence behind my business and I could not be happier with the results! Josh and his crew were friendly, professional, on time and were very easy to work with! I enjoyed my experience with Rockwall Fence, and I would highly recommend them to anyone who is looking for a great quality fence!

- Amy Connolly. 10/20/2019

Josh and his crew just finished our backyard fence and we could not be happier. The communication was great as well as the attention to detail. The crew was dependable and precise. We even made a few changes along the way and they adjusted perfectly. We highly recommend Rockwall Fence!

Josh and his team at Rockwall fence took the time to do a quality job replacing my existing fence with board over board 8 foot and installing a section on the opposite side of the drive way / house, designing it to place a sliding gate in the future with minimal rework. Josh thoroughly explained the entire process and supplied options as needed on my project. Just finished staining a few days back the fence looks great! I would highly recommend the team at Rockwall Fence for any of your fencing needs.

- Richard Marley. 4/26/2018

We moved into a house in Nevada,Tx. in January. The fence was in bad shape, so I knew it needed to be replaced. I wanted to extend it further back also.I wanted a stained cedar fence.I contacted Josh for an estimate. He replied quickly and gave me a good estimate. Josh, Nathan, and the rest of the crew did an outstanding job taking down the old fence and hauling it off. They then built the best fence I have owned in my almost 40 years of home ownership. In addition to building the fence and then staining it perfectly They also built wide gates in the fence for ease of transitioning in and out of the back yard with my truck and garden tractor. Due to the excellent job with the fence, I also hired them to build a 30' X 36' steel building that I ordered from Mueller Steel Buildings. Once again they did an outstanding job. I would recommend Josh and his guys to anyone needing fencing done. I wouldn't hesitate to call them for any kind of work I need done.

- Leon Carroll. 4/11/2018

Does excellent fence work at very reasonable prices. I had Josh do a wood on wood 8 foot cedar fence and it is solid, sturdy, beautiful, well built and priced right! I've gotten a lot of compliments about his work. He is very dependable and shows up on time every day.

Josh Copple at Rockwall Quality Fences and Decks did a great job assuring me of this company's honest, dependable reputation. He provided references who were able to answer my questions about quality and trustworthiness. My fence installation went smoothly and was completed on time. Josh even created a custom dog window in the fence in an area where the ground sloped sharply. He measured my dog's height and head/muzzle width to make sure his design would be absolutely safe and secure while being functional and aesthetically pleasing. It is the nicest dog window I've ever seen! I highly recommend Josh and Rockwall Quality Fences and Decks.

- Becky Hartless. 7/19/2014

Very professional staff who worked quickly and diligently. Work site was clean and they made sure I was fully satisfied before they left. I love my brand new fence!!